Django Reinhardt Pack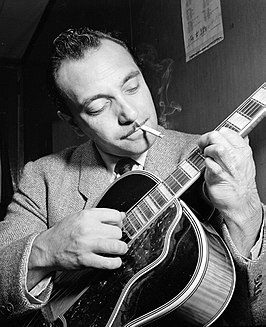 € 14.90
To order : click on "buy now" and you are directed to Paypal to complete the payment. Paypal will notify me and then Tabs/pdf's and eventual links to lesson video's are sent by me personally to your Paypal email address.
(or any other email address, if you let me know).
This may take a few hours as I live in Europe.
So tabs are not sent automatically, neither by snail mail, neither as downloadable links etc.
You should receive your order within 24 hours after payment. If not, do check your spam folder first, then contact me through my Paypal email or use the "contact me" on this website and I'll sort it out immediately.
You can also order an individual Tab with lessonvideo from any Lesson Pack or ebook as well.

They cost €9.50 each. To order go to the "Individual TABS and Lessons" page, just above the dotted line in the navigation bar.
Special Deal
Interested? Check top of the navigation bar.

Django Reinhardt Pack

Four songs are taught with tab and lessonvideo's. One song only TAB. All played in fingerstyle.

Here are links to the performance video's
1- Improvisation #5
http://www.youtube.com/watch?v=ZkdHyoUjD8M
2- Tears
http://www.youtube.com/watch?v=CSKn3XeekDs
3- Nuages

Performance video
very lyrical version and not that difficult to play.
Lesson Video
4- Bord de Seine
A beautiful piece by French guitarist Christine Tassan. Not diffucult to play (no videolesson, just TAB)

Performance video
5- Douce Ambiance

Fingerstyle version of this lovely song