Larry Johnson ebook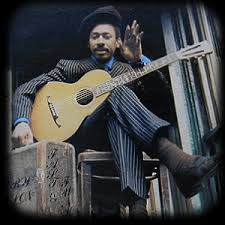 € 12.50
Larry Johnson never made it big but his groundbreaking album "Fast and Funky" is very worthwhile to study. It's a great example how a modern bluesman tackles old material and gives it a new original life.

The LP is long out of print, as is the reissue cd, but you can find copies at Discogs sometimes https://www.discogs.com/Larry-Johnson-Fast-Funky/master/691764
Or you can also listen to the LP on YouTube, not the best quality, but Larry's brilliance shines through
https://www.youtube.com/watch?v=WSOEfILM1bo&list=PLjaKUgK9hbx9I3ROOcnHAh9xRHFC1lEYh

Elijah Wald wrote two excellent articles on Larry
https://www.elijahwald.com/songblog/pick-poor-robin/
scroll down to the middle of the page for the following article
https://www.elijahwald.com/bluarch.html
There are some video's on YouTube of Larry performing but they represent his later work, when he, for a reason unknown, changed his style to more strumming than fingerpicking.

The performances below are my interpretations of his arrangements. Technically they are not that difficult but they'll require practice. Only when you know the guitar arrangement by heart you will be able to sing with them.
I'm tuned to standard tuning but a half step low for all the songs.

13 pages of tabs, 96 minutes of video. Lyrics provided and I pay special attention to the singing.

1- Charley Stone
A great of Larry's funky ragtime blues. He brings new life to a standard ragtime progression in the key of G
Performance video
2- Keep It Clean
The original by Charley Jordan is in the key of E but Larry completely revamped it to the key of A.

Performance video
3- Four Women Blues
A very unique approach to a blues in the key of C
Performance video
4- Up North Blues
Another unique approach to a medium tempo blues in the key of C
Performance video
5- The Beat From Rampart Street
A stunning masterpiece, no further comment, just listen to it. Key of C
Performance video
6- Frisco Blues
Larry reworked a Memphis Minnie song into a bouncy toetapper.
Key of C


Performance video